Are you storming?
If not, don't worry! We are bringing the mystery to you. Because well, they can't stop us all and Buzzed Bull Creamery had an alien sighting!
The two locations (Cincinnati, OH & Wilmington, NC) seem to be missing their horns! Top Secret Mission launches and a new Area 51 Mystery seasonal flavor of ice cream and milkshakes is now available. The sci-fi inspired ice cream and milkshake flavor will vanish September 22nd and can be made buzzed (alcohol infused, 21+) or non-buzzed (non boozy).
The teams in Cincinnati and Wilmington wanted to extend the mission:
---
Attention! Incoming transmission…
Top Secret Mission.
To all of our loyal Buzzed Bull Creamery customers, we are requesting your help! It seems that aliens have been sighted at Buzzed Bull 51. We need your assistance! They have stolen our horns and and we must get them back. Hurry in to complete your mission by purchasing an Area 51 mystery ice cream or milkshake. You will earn your status of faithful warrior. Your participation is very important to this top secret mission and the Buzzed Bull Creamery Team will be forever grateful.
End transmission.
---
The mystery seasonal flavor was inspired by the recent podcasts, documentaries, and Facebook event about storming Area 51 in September (which turned into a musical festival). The internet has been taking every opportunity to talk sci-fi, conspiracy theories, and humor through various memes. So why not join in on the fun for a short time!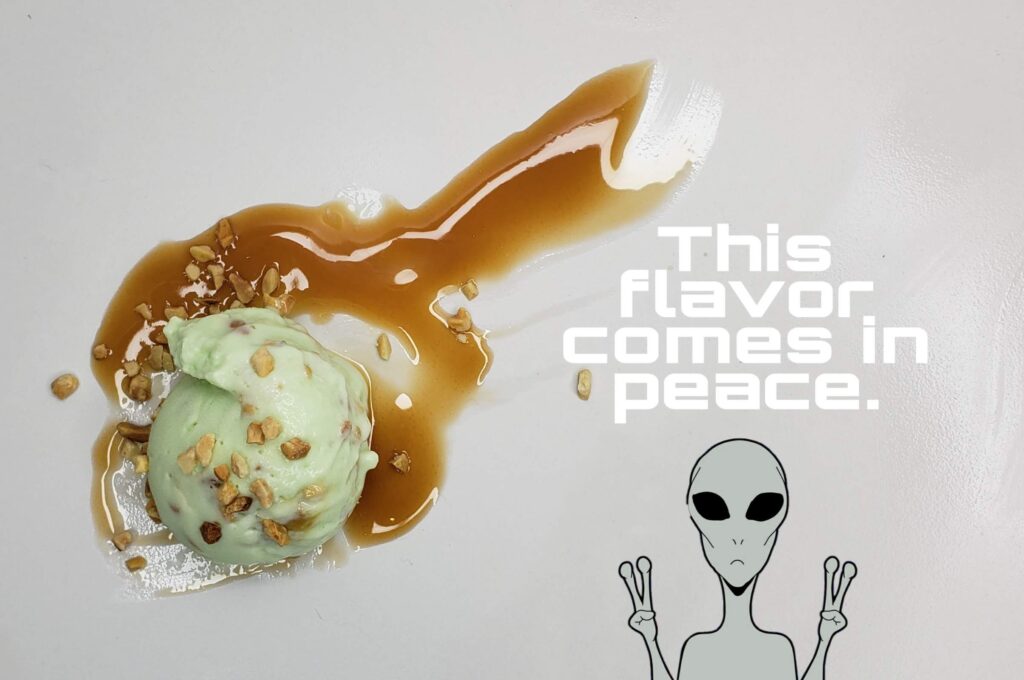 If you are in the Wilmington, NC area, go check our their Facebook and Instagram pages for a community scavenger hunt with moon rocks. Event details here.
Before we sign off, we have to ask – do you believe?! 👽
**DISCLAIMER: This is meant to be fun and should not be in anyway be taken as truth.**
If there are questions regarding ingredients for allergy related information, please let us know.